Excitingly, the Swavesey teams have been in action against various other club teams. Here are the match reports from a couple of recent matches! For all our recent news, check out our Facebook page.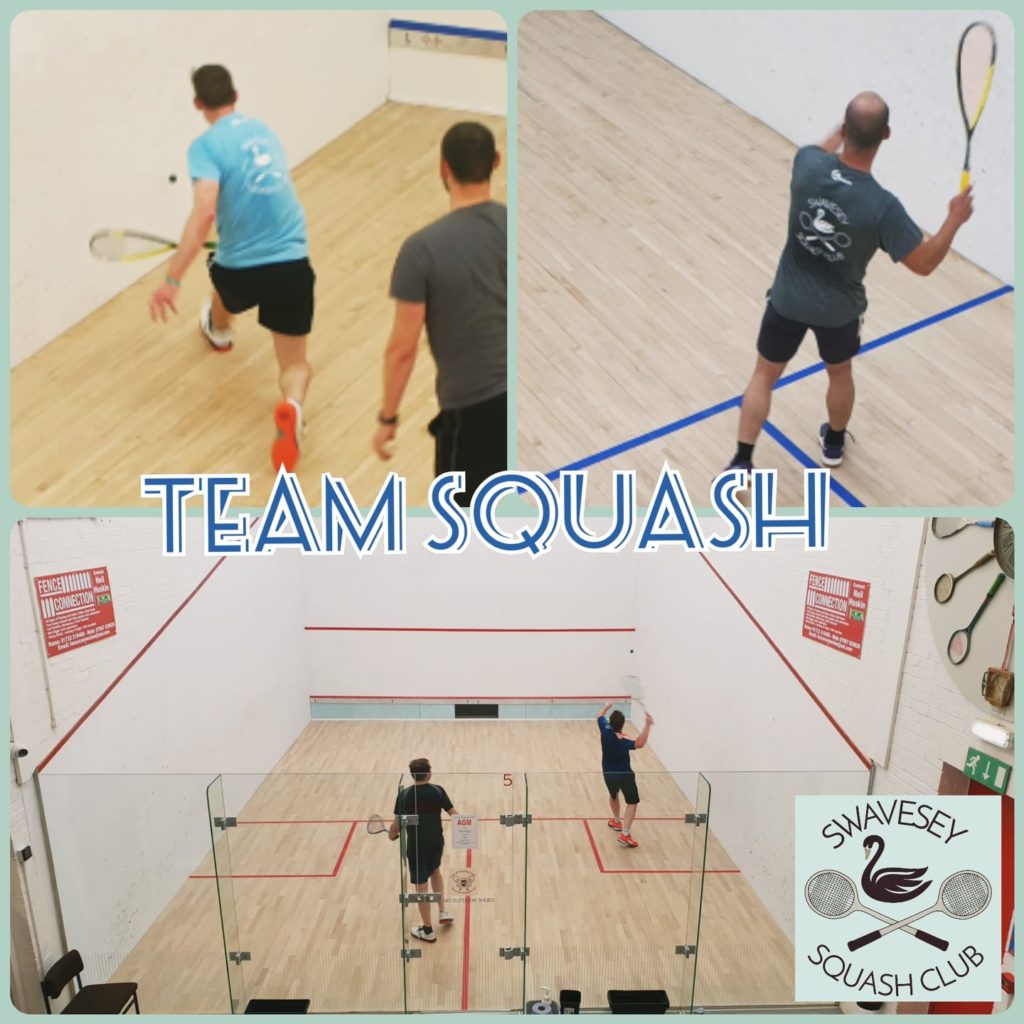 2nd team match report – away v Saint's (Huntingdon) 3rds 19th Oct – reported by Jim Warwick
The 2nd team battled its way through the A14 roadworks (of which SatNavs are ignorant) to get the mecca of the sports and fitness that is One Leisure Huntingdon.
First up was Nathan, making his debut in bermuda shorts and odd socks, Nathan's seemingly casual attire took his opponent by surprise as he blasted through the first game with relative ease. The match then got tighter and was a hard hitting well fought affair with Nathan eventually coming out victorious at 3-2 – bravo debut performance, great game.
Meanwhile Bradley was on the other court – playing very good conventional squash with great line and length, Bradley took the first game. He changed tactics in the second, playing more eclectic squash designed maybe to befuddle his opponent… and lost this one. However, he pulled himself together, went back to basics and closed out a solid 3-1 win with tidy squash from both players.
I was up against Harry who was basically too young, fast and hard-hitting for my style of game (old, slow and lobby!). I managed to win the 3rd game mostly based on lob-serving on a court that was relatively dead at the back, but Harry worked this out eventually and took the match 1-3.
I didn't see Fraser's game, but his experienced opponent's (Danny Jnr Caulkett) comment after the match was basically "I just hit the ball as hard as I could into the back and then dropped it". Danny did alomost wipe himself out by whacking his own thumb in the third, but Fraser ultimately went down 0-3.
The match was finely poised at 2-2 with Arran to play. Arran had been on holiday for a couple of weeks – this combined with the unfamiliar court conditions led to some uncharacteristic errors early on in the 1st, but he pulled himself together and took a tight, if scrappy, first game. As the match went on Arran's length and accurate short game started taking its toll and although his opponent (Dave Chapman) looked less physically challenged (a.k.a. knackered) than Arran, he was no match for Arran's accuracy – Arran went on to win 3-0 – well played!
Great team performance and a good win!
1st team match report – away v Peterborough 1sts 20th October – reported by Ali Loke
The 1st team had long prepared for this away match in Peterborough against what was on paper one of the strongest teams in the league. George had decided to abandon the team in order to visit his girlfriend in Jersey, but we were lucky to have a strong reserve with Arran stepping up to play before his night shift. And two matches in two nights. Impressive commitment!
The 1sts have not had a dazzling start to the season, due to a combination of adverse court conditions, illness, and injuries. However, several key Peterborough players were out of action due to contracting COVID-19, so we were hoping to get some points on the board and improve our league standing.
Marco and Diego has already had a warm up hit before any of the Peterborough players arrived, and were ready to hit the ground running, playing at 2nd and 3rd strings respectively. Diego particularly took control of his match from early on, keeping his opponent under pressure and moving him around with excellent working shots. He kept on top of his opponent and took a 3-0 victory. This match was excitingly on the new show court, which played nicely.
Marco was coming back from injury and had a large strap around his hamstring. His opponent had a good array of tricky shots with an unusual technique especially on backhand, but after losing the first game 13-11, Marco managed to keep the pace high and retrieve well before slotting in some good tight drops to take the match 3-1.
Arran stepped up next, also on the show court (pictured below). Unnerved by some friendly fire from Chris Nickerson (not recognising Arran as a member of our team, despite playing him at team training) (next time he'll be wearing his Swavesey shirt), and by his left-handed opponent's hard hitting style of play, Arran struggled to control the play initially. Luckily, Arran found some weak points at the back of the court and exploited them before playing the ball in short with straight drops. He rushed his opponent who made a few errors to give Arran a 3-1 on his debut appearance in the first division.
Chris was on simultaneously, and despite not watching a single rally, I can say with certainty that the match involved Chris retrieving the ball relentlessly until his opponent ran out of ideas and/or energy. Another great win from our current MVP Chris Nickerson, who is yet to lose this season, and who tonight didn't even drop a game.
I was on last, having given my pre-match banana to Chris, and still struggling with the (non-COVID) lurgy that Diego had given me. Enough excuses. Another nice opportunity to play on the new show court, I was caught off-guard at times by my opponent's short play, but managed to finish off our match with a 3-1 win and my first win this season. Yay!
The team then dispersed early due to work demands that night/early in the morning.
A week off for both teams during half-term and then the 1sts have their first home match v Stamford 1 on the 3rd, and 2nds to play newcomers New Chesterton Institute Cricket Club on the 4th, also at home. The ladies have their first fixture v Cambridge on the 1st, also at home! 🤞